Have you ever thought about moving to Camano Island?
Have you ever thought about moving to Camano Island?  If so, this is all about the pros and cons of living on Camano Island. To be a hundred percent transparent, I have lived on Camano Island most of my life and had a hard time coming up with cons.  I did come up with a few, so I'm going to start there. And these are in no particular order. 
CON'S of Living on Camano
1.  Travel time to conveniences 
There is one larger grocery store on Camano. It's an IGA with a hardware store, nail salon and pub in that same complex. There are also a couple small mom and pop grocery stores. If you want to go to a bigger store there's a QFC and a Haggen in Stanwood. 
If you're looking for something bigger, like a Costco or target, you're going to have to drive to Smokey Point or the Burlington area. And that's going to be a minimum of 30 minutes from the north end of the island and closer to an hour, if you are further south. 
2. 
Healthcare 
There are no hospitals on Camano island or in Stanwood. If there's an emergency, the closest emergency room is going to be in Arlington or Mount Vernon. However, Camano does have a fire department who responds in case of an emergency. They're very quick and ready to aid when needed. The Island also has one full service family medical practice, Skagit regional clinics. 
3.  Traffic 
There is one road on and off Camano island and this can cause a bit of congestion at times making traffic slower. Typically traffic gets pretty congested and slowed down twice per day. Oftentimes this isn't a big deal if you just plan for it.  Every once in a while, there is an accident on the one road going on and off the island, when this happens traffic can get really backed up.  On these days you can plan on waiting anywhere from a half hour to well over an hour, just to make your way off the island. 
PRO'S of Living on Camano 
1.
The drive over the bridge onto the island
I know this sounds really, really corny, but if you live on Camano island, you know, just what I mean. There's something about when you've been off island, busy all day and then drive back onto the Island.  It's like breathing a breath of fresh air.  You see the beautiful views and can relax a little, take a deep breath and you know, you're home.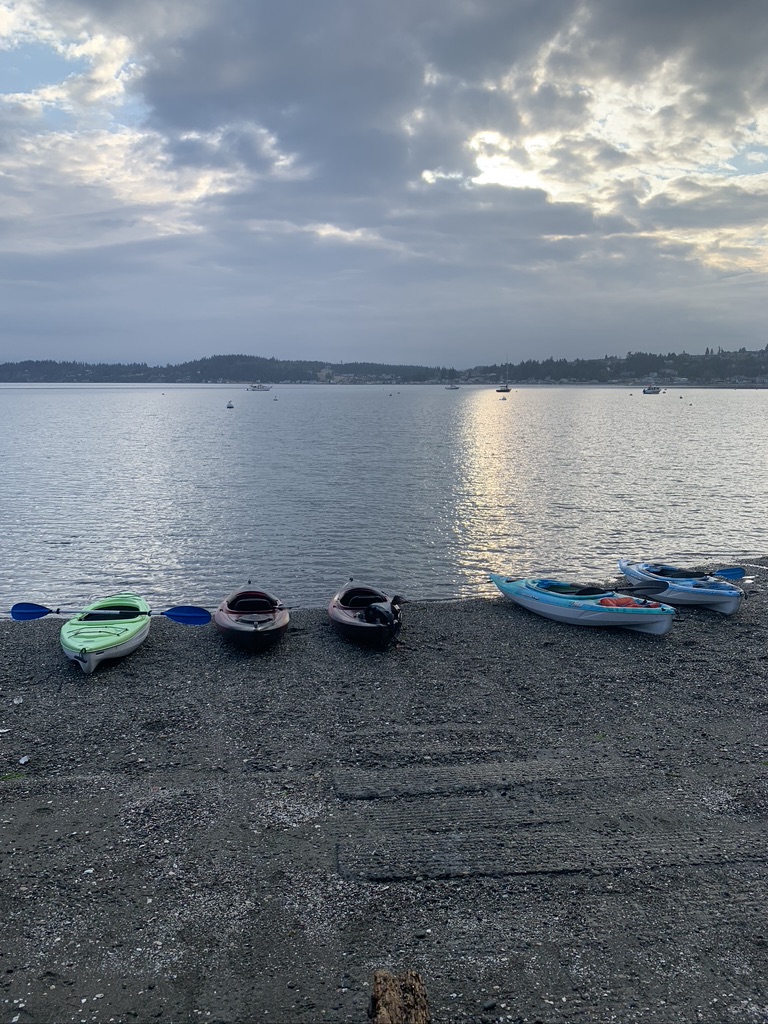 2.    Weather
Camano island is in something called the banana belt. Which is the Sunbelt of Western Washington. What does that mean, you ask. It means that Camano Island, along with the rest of the banana belt, receives half the amount of annual rainfall as all the surrounding areas.
3. 
Camano is a very safe place to live
According to the  Neighborhoods Scouts analysis of FBI crime statistics Camano Island is safer than 77% of cities and towns in the U S of all population   sizes. And, in Washington state, there's only 8% of other cities that have a better crime rate than Camano Island. It's a pretty safe place to live. 
4.  Great sense of community
It's one of those small towns where everybody knows your name.  Not really, but it's fun to head to the farmer's market, local grocery or restaurant and run into people you know.  Camano is a tight knit community and hosts lots of community events. I can't think of a month that goes by where there's not an event that you can attend or be involved in. 
5.  Outdoor Activities
Camano Island is surrounded by beauty and  things to do outside. There are two State Parks, Cama Beach State Park and Camano Island State Park. There's a great spot to launch your boat at the state park and if you're not a boater, it's pretty fun to watch the launch too.  There are also many other beaches and parks that you can enjoy with public beach access. The Island also has miles and miles of maintained trails. 
With its beautiful beaches, easy hikes, fun activities, a small food scene and beautiful scenery Camano Island is a great place to be. I hope these pros and cons were helpful. If you're familiar with Camano, I would love it if you would comment below and tell me some of your favorite things about the Island, or maybe you can think of a con that I couldn't think of. 
Interested in what's available in the Camano Island real estate market, check here.